Nox Player is one of the best Android emulators you can use on your Windows and Mac devices. But sometimes, Nox Player is stuck at 99 on Mac laptop or computer while installing this app.
This error can be annoying for all users, and it can take a lot of time, especially when you don't know how to solve it. So if you are one of those users facing this issue, there is no need to worry.
In this article, you will find all possible reasons why this error is coming on your Mac and how to install nox player on Mac. There can be mainly two reasons: Nox Player is not installed correctly, or Your System is Blocking Nox Player from loading.
It is easy to solve both problems if you know the correct solutions. Here we share answers for both errors in two steps. We recommend you check out both processes and then identify the problem with your nox player on Mac.
How to Fix Nox Player Mac Stuck at 99?
As you know, there can be two main reasons for this error on your Mac, and your nox player is stuck at 99. Now let's discuss both reasons one by one and see how you can fix both very easily with only a few steps.
Install Nox Player Correctly
Many users face this issue because they need help installing the nox player app on their Macs properly. There are two main things that you should keep in mind while installing this app.
Step 1: First, when you install nox player on your Mac, you have to accept the terms and conditions and then only process the next step. Check out the below images for more details.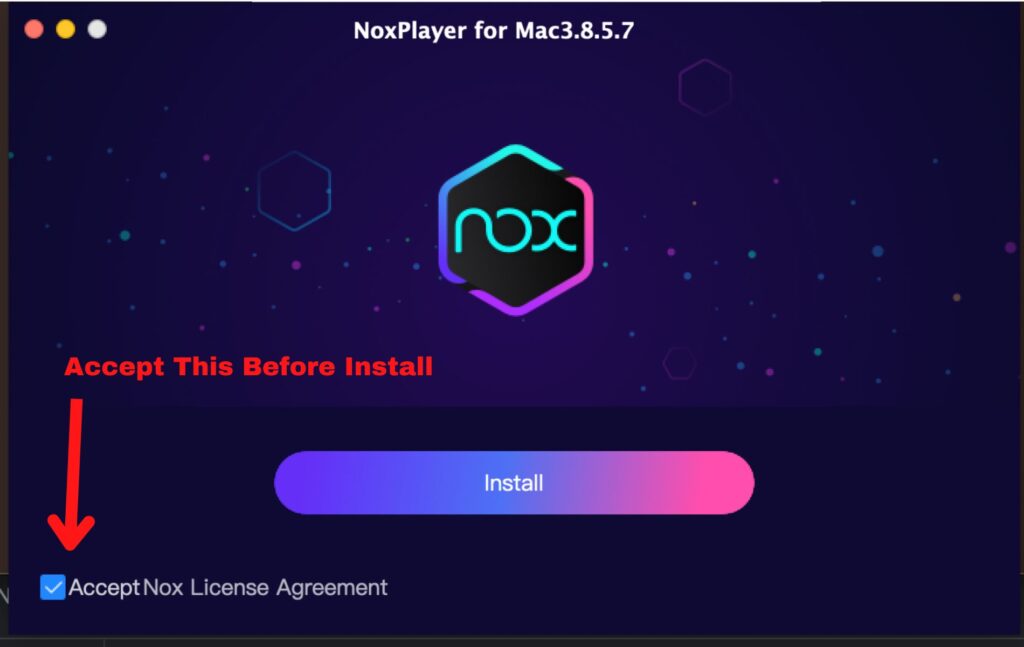 Step 2: As nox player is unavailable on the app store, you must download and install it from its official website. While installing, this app will also ask you to open a file downloaded from the internet, and you have to click on the 'Open' button.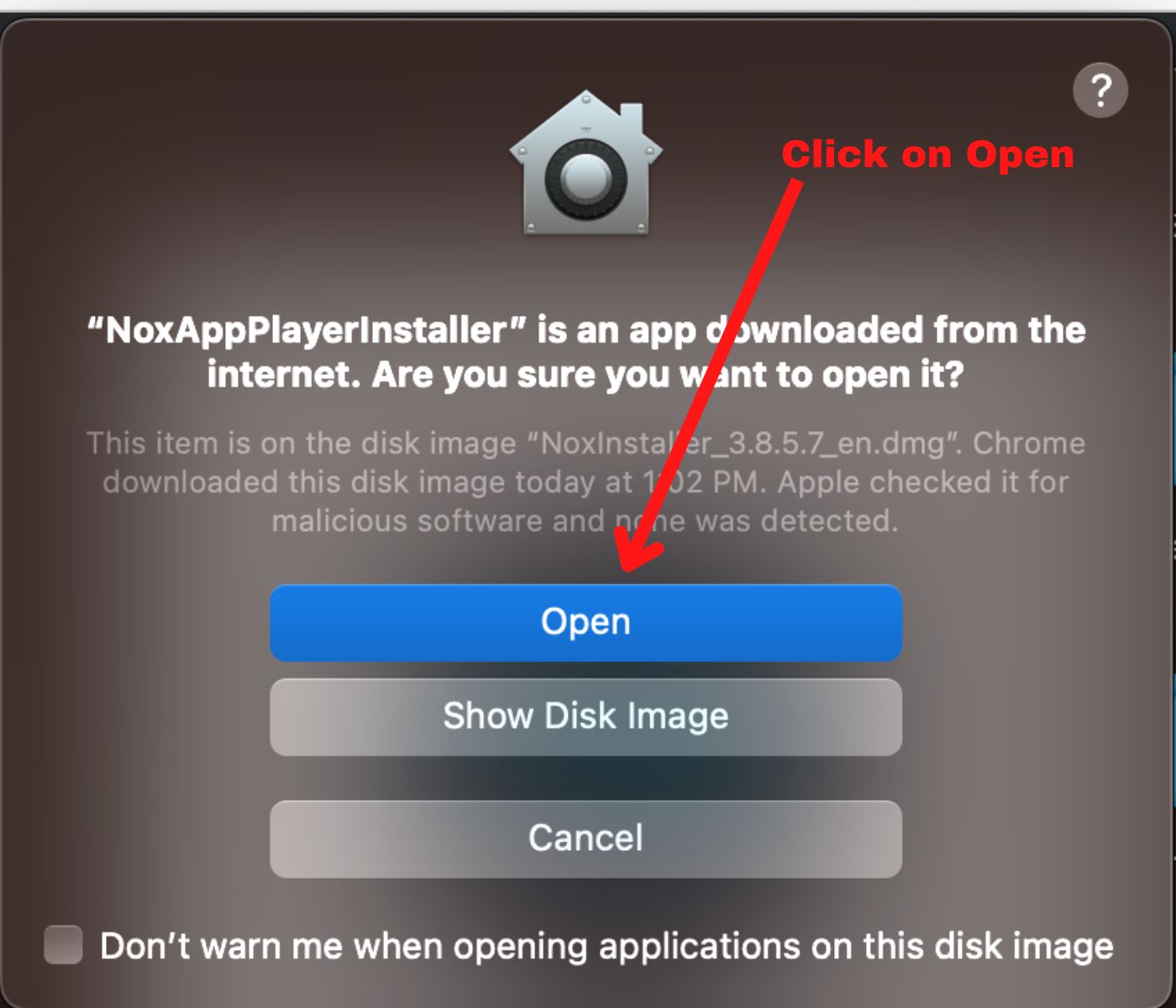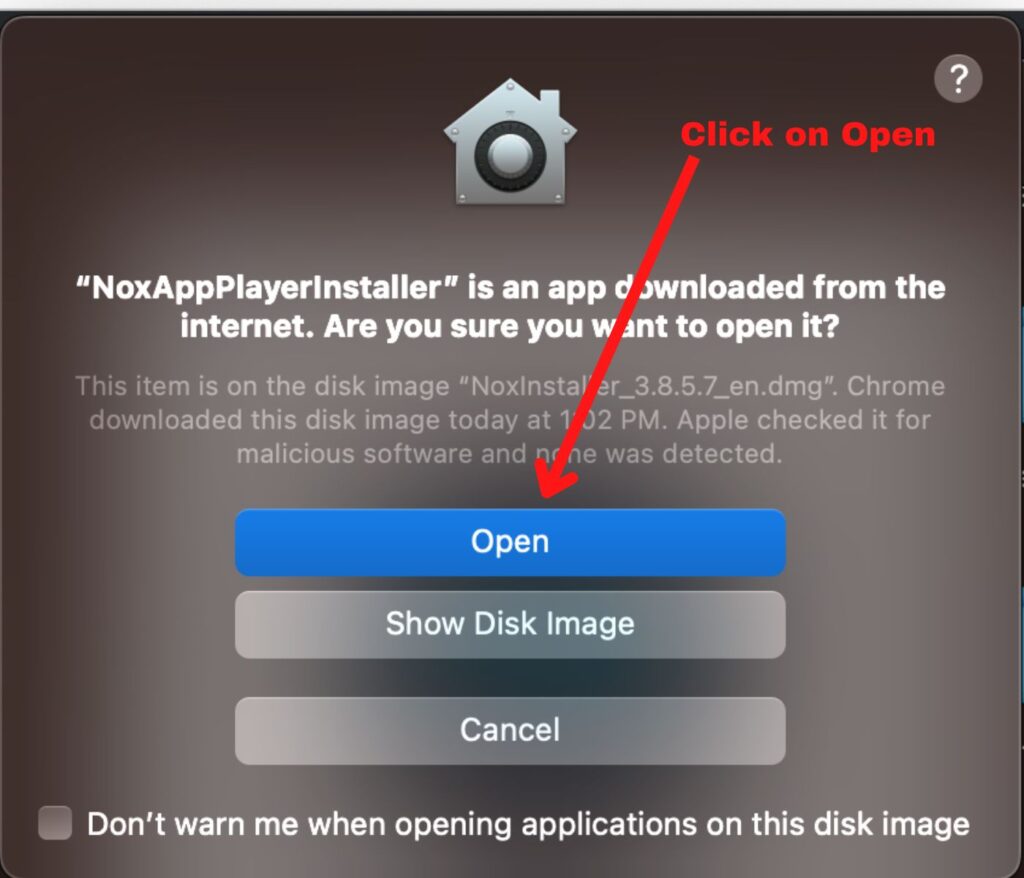 These are two main things you must remember while installing this app on your pc. And doing this lets you install the nox player app correctly on your system.
NoxPlayer uses Virtualbox to run the Android system. Sometimes, it can be stuck because you are not using the latest version of the Virtualbox. You can check out the latest version here.
And if your Virtualbox is not updated, you can download and install the latest version. You have to close your NoxPlayer and Virtualbox while updating to the new version. Once it's finished, you can restart your Mac and start using your Android emulator.
Allow Extension on your macOS
If you have installed nox player correctly on Mac and still it's stuck at 99 when you open it, it can be because macOS is blocking the extension. There are also two methods available to fix this issue.
Depending on what version of macOS you are using, you can see any of the below options.
Step 1: It may show 'Legacy System Extension' while installing the app. In this case, you can go to System Settings -> Privacy Securities -> Scroll Down and click the 'Allow' option.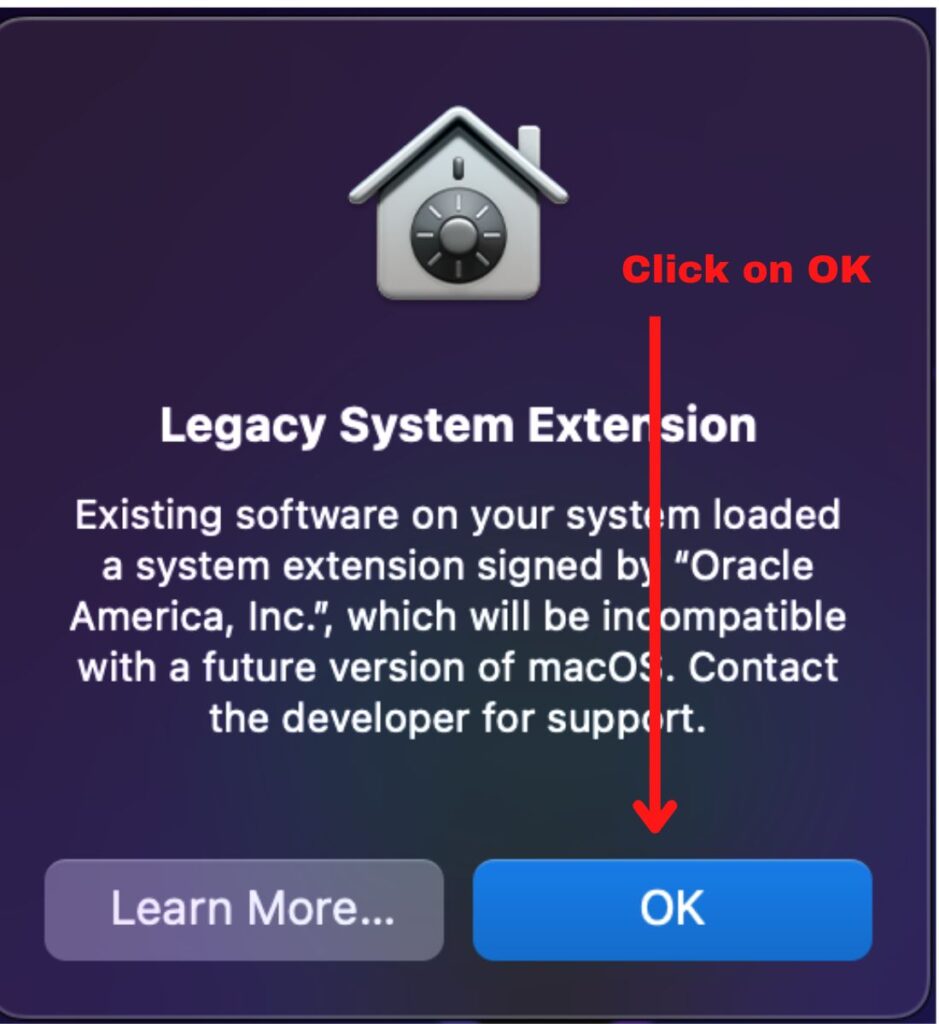 Step 2: You can also do this process directly if it pops up in your nox player and asks to authorize it. In this case, click on 'Authorize,' enter your username and password of your Mac, and click on Okay.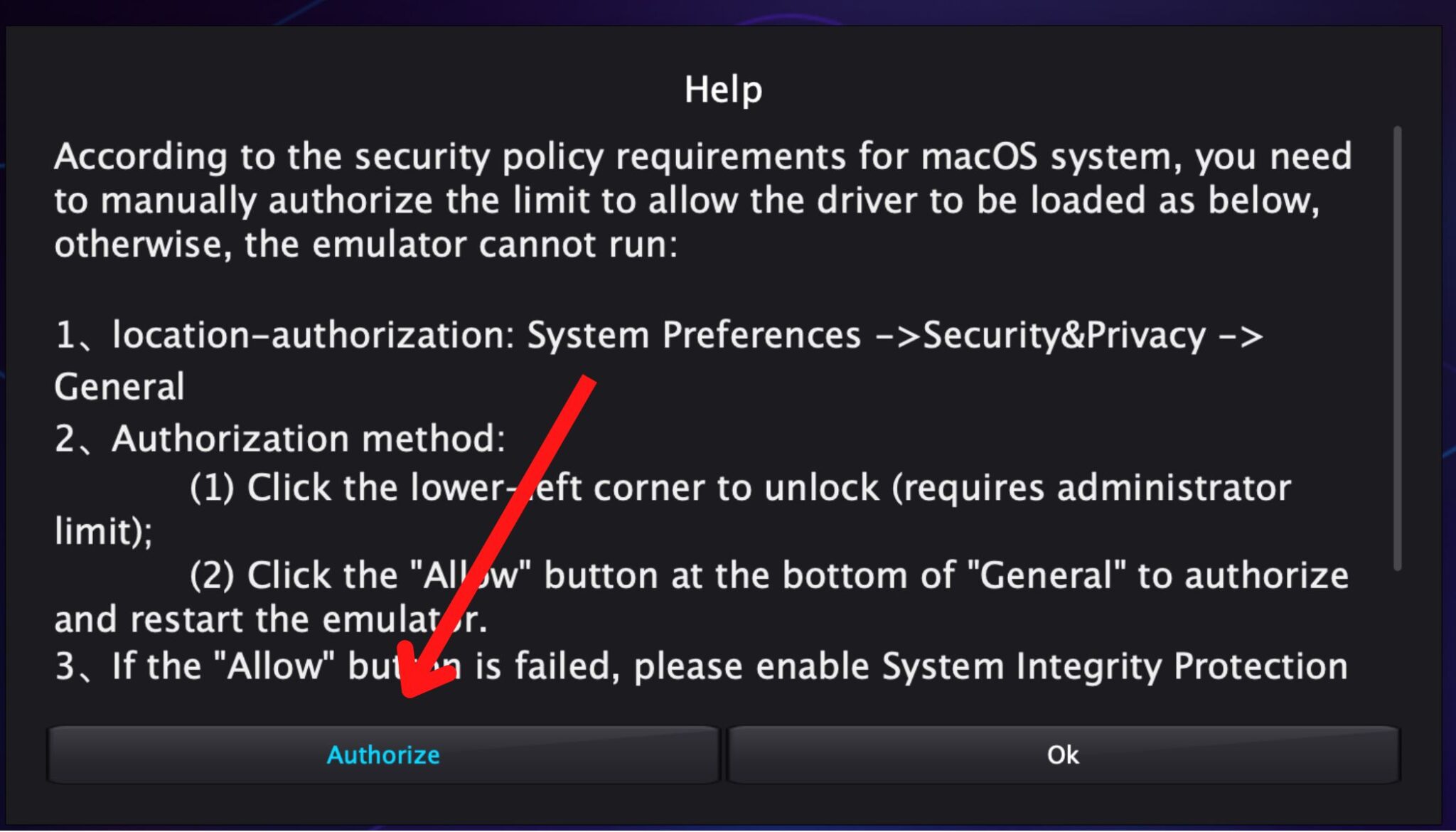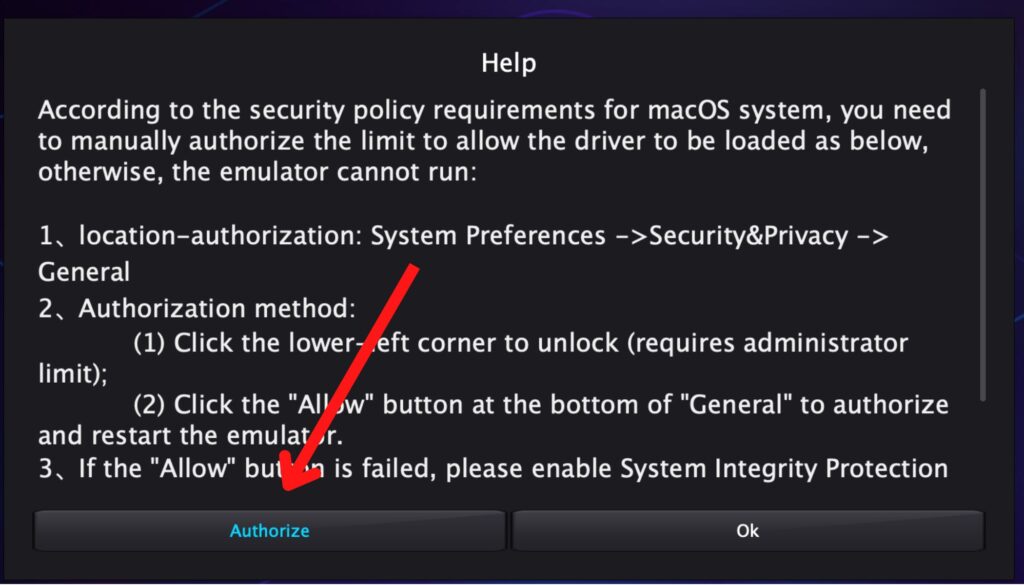 So this is how you can fix this error if your system is blocking the nox player extension on your system and not allowing it to load on your Mac.
FAQs on Nox Player Stuck at 99 on Mac
If you have more questions regarding this error, you can check out the frequently asked questions below to find a quick solution.
How do you fix a NoxPlayer stuck at 99% on startup Mac?
There are two things you need to do to fix this error. First, install the Nox player correctly on your Mac, and second allow the nox player extension from the privacy and security option.
Does NoxPlayer work on Mac?
Currently, you can use NoxPlayer on your Mac and Windows operating systems. And it is available for free to install and use.
Does Nox work on M1 Mac?
Currently, there is no official version of the nox player that you can download and install on your M1 Mac. Yes, but according to a tweet from the developer, it is coming soon.
Wrap Up
Here in this article, we cover two possible methods to solve the problem 'Nox Player stuck at 99 on Mac' and some FAQs. If you are still getting this error, you can restart your Mac and try it again. We hope this article is helpful for you and you can solve your issue; please share it with your friends who are facing it.